Pass Through Windows
Ambiance Sliding Systems
Benefits of Ambiance Sliding Systems

Smooth Run
Precision roller technology for optimum smooth running
Well-designed roller assembly technology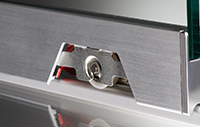 The single-unit spring steel housing of the roller assembly has alignment guides and locking struts. The guides ensure the self-alignment in the direction of movement. The locking struts resist movement with increasing retention force. This ensures extremely quiet running.
High quality, precision ball bearings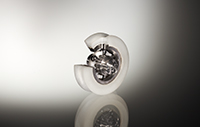 High quality, precision ball bearings with a plastic coated steel outer ring and ball cage systematically optimize quiet running, ensuring the quiet and smooth running in the long term. The plastic ball cage prevents the steel balls from rubbing against each another, thus reducing noise.
Curved running surfaces for precise positive guidance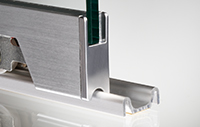 The curved running surfaces of the aluminum tracks ensure precise positive guidance and thus a quiet running action.
Abrasion-resistant flocking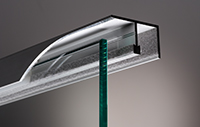 The high quality flocking of the top guides, applied by machine, ensures a high degree of abrasion resistance and long-lasting quiet running action. It prevents the glass sliding doors from grinding or scratching.

Safe Lock
3-point security to protect against lifting and forcing apart
Damping and anti-theft devices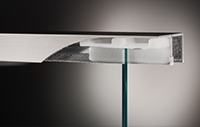 Adjustable damping and anti-theft devices brake and hold the sashes and prevent them from being lifted off at their end position. The damping devices are integrated out of sight on the right and left-hand side of the double top guide.
Locks with patented dead bolt mechanism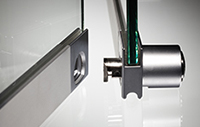 When ordinary locks are used, glass sliding doors can be lifted off the tracks. The intelligent, patented dead bolt mechanism is used to bolt the sashes firmly together, preventing them from being forced apart horizontally or lifted vertically.
Ambiance Sliding Glass Showcase Doors and Office Pass-Thru Windows are a perfect solution for a wide range of applications where interior glass sliding bypass doors are needed. Examples are office windows, display cabinets, trophy cases, collectibles, memorabilia, etc. Hardware solutions are available in 3/8" or ¼" glass for either full floor to ceiling height or partial height pass thru window applications with locking options available if needed. These high quality interior sliding glass door solutions provide ease-of-access, security and enhanced décor with the simplistic beauty of glass. Interior Sliding Glass Systems work well in either a residential or commercial setting for offices, display showcases, kitchens, walk-up counters, or anywhere else you would wish to combine convenience, protection, and elegance.
Space Saving
Sliding Glass Doors create more usable space as compared to swing doors on hinges
Design with Style
Glass is modern, contemporary, & aesthetically appealing to enhance décor
Reduce Barriers
Sliding Glass barn doors are a great tool for designers to create barrier free design plans
Glass Options
Many glass options available to let light in for an open spacious feel or to obscure it for privacy
Eco Friendly
Use of natural daylight through the glass saves on electricity for ongoing energy savings
Easy Access
Sliding Glass Doors allow for larger objects to move in and out of a space