Medicine cabinets are not only extremely functional, but can add interest to a bathroom's décor. They are great for smaller bathrooms as the main mirror source or as a side mirror for larger bathrooms. Our medicine cabinets are installer friendly and feature 5 shelves that will adjust to fit your storing needs and a mirror finish inside and out. View all of our medicine cabinet options and mirror side kits below.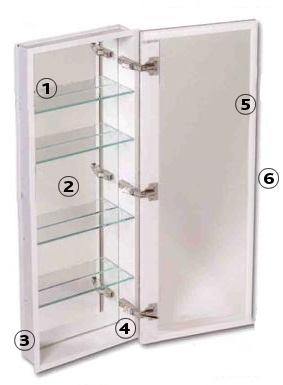 1.) 5/16" Adjustable Shelves
5/16" glass shelves are thick, strong, and easily adjustable to suit your needs
2.) Mirror Finish
Mirror finish inside and out gives plenty of opportunity to make sure you're looking your best.
3.) Anodized Aluminum Body
Ensures your cabinet will hold up to even the busiest bathroom environment for years to come. Available in Black, White, Satin, and custom closer.
4.) Blum Hinges
Glass is naturally non-adhesive so germs, microbes, fungi, and viruses have nowhere to bond and breed.
5.) Softclose Bumper
Provides quiet door closure.
6.) Wide Finger Pulls
Wide finger pulls for easy opening
---
Installer Friendly
All holes are pre-drilled and threaded.
Doors are packaged separately for safe handling and ease of cabinet installation, and install in minutes with snap on Blum hinges.
Mounting Options and Mirror Side Kits
Cabinets can be surface mount, recessed, and semi-recessed. Mirror side kits available for surface and semi-recess applications.

2" Mirror Kit
Use for semi-recess mounting of 2" deep cabinets

4" Mirror Kit
Use for semi-recess mounting of 4" deep cabinets

6" Mirror Kit
Use for semi-recess mounting of 6" deep cabinets
Schedule a Free
Design & Estimate
With Our Product Knowledge Experts
Schedule & Save $100!
We Measure. We Manufacture. We Install. You Save.