Shower Door
Care & Maintenance
PLEASE SCROLL DOWN TO VIEW RECOMMENDED INSTRUCTIONS FOR GLASS, HARDWARE, AND SEALS
---
1. Cleaning Your Shower Door Glass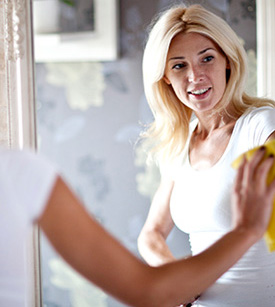 DO

Squeegee dry after showering

It takes less than a minute, and goes a long way in preventing buildup of soap and mineral deposits that can create water spots on the glass. Purchase an ergonomically friendly Cleret Squeegee at our showrooms, designed for shower door use. Avoid squeegees with any metal framing as it can damage glass!
DO

Clean your glass periodically with proper cleaning solutions that will not harm glass

Creative Mirror & Shower's Perma Gleam Glass Cleaner is a great cleaning solution for glass, mirror, and metal. Creative Mirror's Soft Waffle Weave Microfiber Towels are perfect for aggressively wiping off soap scum, lime scale, calcium, and other mineral deposits without damaging the glass.

Your shower will be easier to clean and resistant to staining. If mineral buildup accumulates on the glass, it will come off, rather than cause permanent damage. If you maintain and clean your ClearShield Protected Glass, your shower door will maintain its luster and beauty for years to come.
NEVER

use ANY cleaner containing bleach or ammonia

Stay away from abrasive powders, abrasive pads, and steel wool. These strong chemicals and abrasive cleaning agents will not only harm the glass, but they will damage your shower door hardware, and compromise the silicone and seals which will create leaks.
ALWAYS

remember that glass is very porous and needs to be protected and cared for properly

An eco-friendly option to prevent or reduce mineral deposit buildup on the inside of shower glass is to spray on a mixture of 20% white vinegar and 80% water with a touch of Dawn dishwashing liquid. Let this mixture soak on the glass for a few minutes, being careful not to let it come in contact with the shower door hardware or plumbing fixtures. Rinse area with clean warm water, then thoroughly wipe the glass clean with a soft microfiber cloth and glass cleaner.

WELL WATER & OTHER HARD GROUNDWATER SOURCES IN HOMES

Click here

for specialty cleaning instructions on Clearshield Protected Glass in homes with Well Water or other Hard Water sources. Without Clearshield Glass Protection and proper cleaning, the mineral deposits in groundwater can cause permanent and irreversible staining on glass. Many municipal city suppliers use hard groundwater for distribution, so the problem of hard water mineral deposits such as limescale, magnesium, and calcium in not limited to homes with well water.
---
2. Cleaning your shower door hardware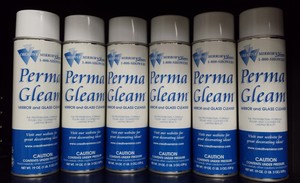 Cleaning shower door hardware is EASY!
Just use a few drops of mild soap such as dishwashing liquid and warm water and wipe with a soft microfiber towel and rinse well. Creative Mirror & Shower's Perma Gleam Glass Cleaner is mild and can be used on your shower door hardware as well as your glass for a simple one step solution.
---
3. Maintaining your shower door seals
Maintaining the seals IS IMPORTANT as they help contain water
The shower door seals are subject to friction wear (like windshield wipers), and are designed to be replaceable. To extend the seals life, simply clean as you would your shower door hardware using mild soap and warm water. Do not use bleach, ammonia, or any strong chemical, which will make the seals brittle and discolored. The bottom sweep under the door takes the brunt of the friction wear which increases wear and tear with flat molded bases and tile grouted thresholds as compared to a properly inward pitched slab threshold. Try to keep the bottom sweep as clean as possible, and consider applying a thin coat of petroleum jelly to keep it soft and extend its life. When closing a hinged shower door, please gently guide the door shut keeping your hand on the handle. Do not slam or let go of the handle as the vertical strike seal can become loose with impact. In areas with significant seasonal weather changes, your shower door opening can expand and contract slightly. This can cause a perfectly installed seal to become less effective or require minimal adjustment to dial back in. The GOOD news is that seals are easily replaceable and relatively inexpensive.
---
For more information regarding the Care & Maintenance of your glass products, contact us at
1-800-showers